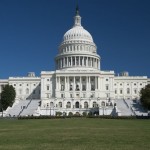 NAPE continuously tracks legislation that addresses—or has the potential to impact—access, equity, and diversity in classrooms and the workplace. Because of the various ways through which equity in education and the workforce is advanced, NAPE follows and works on a diverse array of legislation, ranging from education bills to immigration reform to welfare policy, and more.
In this section of the website, NAPE provides information on key legislation tracked by NAPE's Public Policy team. Each page includes a summary of the legislation; why it is relevant to NAPE's mission; its current status; recommendations for legislative action; and a list of resources so readers can further familiarize themselves with the legislation.
We encourage readers to also look at our Public Policy Agenda—which includes more details on NAPE's legislative recommendations—along with the News from Washington to remain informed of important policy updates. Additionally, NAPE encourages its members to join the Public Policy Committee, which helps to advance NAPE's policy goals through advocacy and grassroots efforts. Committee members meet on a monthly basis (subject to the congressional calendar), and details on responsibilities can be found here under "Policy & Advocacy." If you are interested in joining, please sign up here.