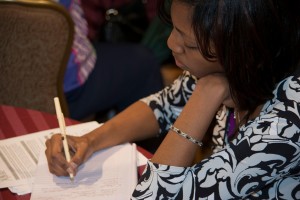 NAPE provides a variety of professional development opportunities to school administrators, middle school, high school, and community college educators, and career counselors. NAPE's professional  development focuses on improving underserved populations' access to and success in educational and training programs that lead to  high-skill, high-wage, and high-demand careers. Such populations include the following:
NAPE has developed three professional development programs:
The Program Improvement Process for Equity™ (PIPE™) engages teams of administrators, educators, and counselors in a 5-step process to conduct a student data–based performance gap analysis, identify root causes for the gaps, and develop an action plan based on research-based strategies proven to close the identified gaps.
Micromessaging to Reach and Teach Every Student™ is a high-quality, research-based, educator professional development program to address gender- and culturally based implicit biases that occur in the classroom and that are manifested through "micromessages."
The Focus on Counselors Initiative integrates current research-based counseling practices to ensure the academic success and college and career preparedness of underrepresented students in career and technical education (CTE) and STEM courses and programs of study.
To date, the largest NAPE project to use all three of these programs in the STEM Equity Pipeline™.
National Summit for Educational Equity
Each year, NAPE's holds a National Summit for Educational Equity (formerly Professional Development Institute) in Washington, D.C., to provide a variety of robust, research-based, effective and promising practices for every audience interested in advancing student achievement. Join us April 24-27, 2017, in Arlington, VA!
Customized Professional Development
NAPE will work with your school, district, or college to customize professional development to meet your unique needs—online, workshops, or communities of practice.  Please complete the online Professional Development Request Form or contact NAPE's Director of Professional Development for more information.
*** NAPE has adopted Learning Forward's Standards for Professional Learning so that our work in supporting professional learning leads to effective teaching practices, supportive leadership, and improved student results. Learn more about Learning Forward's Standards for Professional Learning at www.learningforward.org/standards-for-professional-learning.