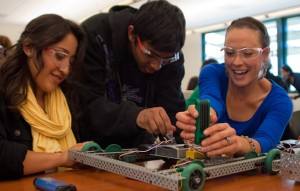 The Education Foundation shares NAPE's commitment to the advancement of equity and diversity in classrooms and workplaces.
 Shared Mission
We build educators' capacity to implement effective solutions for increasing student access, educational equity and workforce diversity.
Shared Vision
Every person is able to fulfill his or her potential through equal access to and equity in educational options that lead to the entire spectrum of career choices.
Shared Values
Research-based approaches to program development and public policy using data to drive effective implementation.
Responsiveness to the changing needs of the educational community and stakeholders.
Innovative solutions to deliver cutting-edge equity strategies in an ever-changing learning environment.
Collaborative efforts to engage with a wide range of partners to reach STEM, CTE, and special populations.