Purpose:  Education team that was successful in promoting access and equity to achieve diversity in career and technical education (CTE).
Number Given:  1
Eligibility: Any team of educators and/or their partners that serve CTE students.   The team does not need to be affiliated with NAPE as a member organization.
Ideal Candidates: The ideal team has distinguished itself from peers by promoting access, equity, and diversity in CTE education and has demonstrated through actions that they embrace the NAPE belief that access to diverse human brain power will help to solve global challenges.
Selection Criteria: Candidates must provide clear metrics that demonstrate success in their program or student outcome and will be judged based on their embodiment of the NAPE and NAPE Education Foundation values.
Collaborative, Diverse:
Develops and strengthens relationships within the profession and/or community by joining efforts to further common goals.
Works effectively as part of a team to successfully accomplish a task or goal in support of its vision and mission.
Builds effective collaborative relationships across the organization to define and solve problems or reach agreements on a course of action while considering multiple perspectives.
Innovative, Agile:
Demonstrates ability to create and implement a vision for the team.
Displays initiative and persistence in working to overcome barriers by adapting activities or approaches, even in challenging situations.
Outcome Driven:
Supports knowledge sharing and efforts toward analysis of outcomes by using data.
Encourages effective group problem solving, critical thinking, planning, and decision making.


If you have any feedback on the awards website or process, please contact Award Committee Chair, Randall Butt at randall.butt@wyo.gov.
---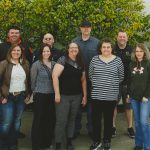 Past Winners: Roseberg High School (2019), Vermont Works for Women's Girls' Program Team (2017), Kentucky Federation for Advanced Manufacturing (2016), San Jose High School (2015), Workforce Development & Lifelong Learning (WDLL) Division of the University of the District of Columbia Community College (2014)