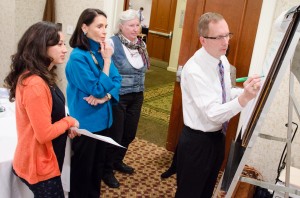 Would you like to participate on a NAPE Program Committee? Sign up here.
Members of NAPE are welcome to join a committee to help strengthen our efforts and forward our collective agenda to achieve equity in education and workforce development across the country. As a committee member, you can expect to participate in the following ways:
Conference calls, generally quarterly, depending on the work of the committee
Offer feedback, suggestions, and expertise as it relates to the committee's agenda
Work with committee members to accomplish goals for the year
Build your leadership and equity expertise
Committee chairs are chosen from the NAPE Executive Committee. Members of the NAPE Executive Committee are expected to fully participate in the work of any committees they chair and participate in the implementation of the NAPE annual Program of Work.
Below are the four committees that offer open membership with an overview of the committee's responsibilities and the names of the chair and members of the committee.  If you are interested in joining a committee, please click on the link above.
Many thanks for your interest and for all you do for NAPE!
Public Policy & Advocacy
Chair: Michael Tinsley (TN)
Members: Marie-Louise Caravatti (AFT/DC), Victor Cato (OR), Elizabeth Collins (MI), LaVonne Erskine (NY), Forough Ghahramani (NJ), Shelley Henderson (US FIRST/NH), Debra Huber (ND), Lauren Provost (NH), Marie-Michelle Saint Hubert (TX), Adrian San Miguel (ID), Mayor Quentin Hart (IA), Jay Ramsey (VT),  Lou Ann Hargrave (OK), April McCrae (DE), Gabby Nunley (OR), Keli Fewox (GA), Sarah Davis (OR) , Danielle Zimecki-Fennimore (NJ), Annissa R. Langworthy (OH), Helen Jones (KY), William Hatch (NC), Twyler Earl (OK), Kimberly Ellis (GA), Randall Butts (WY), Michael Tinsley (TN), Natalie Holliman (AR)
Staff: Lisa Ransom, Senior Policy Advisor
Responsibilities:
Stay informed regarding federal legislative activity affecting equity in education and workforce development
Update NAPE Executive Committee and Foundation Board on current federal policy activity
Nominate and select Public Policy Leadership Award recipients
Make recommendations regarding NAPE Public Policy Day presenters and NSEE public policy workshop
Work with the Senior Policy Advisor to consider policy platforms, draft position papers, assist in the preparation of congressional testimony and/or statements and when necessary meet with Members of Congress, congressional staff and Administration contacts.  *PPC members should have and/or establish relationships with Congressional members and staff in their home state to assist NAPE in expanding its congressional outreach.
Convene monthly  via phone, subject to the legislative session of the House and Senate congressional calendars
Member Services and Marketing
Co-Chairs: Karen Showers (WI) and Esperanza Zenon (GA)
Members: Elizabeth Biddle (PA), Ruth Durkee (VT), April McCrea (DE), Nancy Mitchell (CO), Jocelyn Riley (WI), Eva Scates-Winston (MN), Esperanza Zenon
Staff: Ben Williams
Responsibilities:
Update and develop marketing materials for NAPE
Provide leadership to the Executive Committee and Board Members to increase the number of state members
Develop affiliate member recruitment materials
Provide leadership to the Executive Committee and Board Members to assist with the recruitment of affiliate members
Develop and implement a marketing strategy for consulting and professional development services
Build an ROI campaign to recruit and retain members
Professional Development
Chair: Adrian San Miguel (ID)
Members: Victor Cato (OR), Shelley Henderson (NE), Donna Lange (NY), Lauren Provost (NH), Jeanette Thomas (IA), Jay Ramsey (VT), Adrian San Miguel (ID)
Staff: Joyce Ayers
Responsibilities:
Identify potential professional development needs from the membership
Identify professional development opportunities and submit on the NAPE website
Develop and implement the agenda for the annual professional development institute
Conduct one additional professional development event for NAPE members using alternative technology (e.g. webcast, audioconference, on-line workshop)
Awards
Chair: Randall Butt (WY))
Members: Terri Boyer (NJ), Victor Cato (OR), Twyler Earl (OK), Lou Ann Hargrave (OK), Debra Huber (ND), Monica Marsh (OK), Jay Ramsey (VT), Raelene Sanders (WA)
Staff: Joyce Ayers
Responsibilities:
Review award and award criteria
Create and implement award application and selection process
Manage the awards program at the Professional Development Institute
Not shown here are Finance, Nominating, and Bylaws, the members of which are drawn from the Executive Committee.