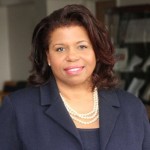 Lisa R. Ransom is the former Vice President of Federal Affairs and Senior Legislative Associate for State Affairs for the Center for Responsible Lending (CRL). A coalition leader, she worked directly with consumer and civil rights groups and labor unions on the landmark Dodd-Frank Financial Reform Act passed by the Congress and signed into law by President Obama. Lisa is also chair and CEO of the Augustus F. Hawkins Foundation. As well, she serves as an appointed member of the U.S. Department of Labor's Advisory Committee on Apprenticeships.
Prior to joining CRL, Lisa served as the Senior Director of State Action Networks for the Center for Policy Alternatives (CPA); she is the second non-elected Fellow of the Arthur S. Flemming Leadership Institute for State Legislators. As External Relations Manager for the National Congress for Community Economic Development (NCCED), Lisa served as the liaison to the White House Initiative for Empowerment Zones/Enterprise Communities Champion Communities. As part of NCCED's 30th anniversary celebration, Lisa produced and directed a federally funded documentary on the 30-year history of community economic development in America narrated by famed actor/producer/director Bill Duke. Lisa is a former congressional staff member, for Congressman and House Education and Labor Chairman Augustus F. Hawkins, Congresswoman Maxine Waters, and Congressman John W. Olver.
Elected in 1994 to an at-large position with the Montgomery County Democratic Central Committee, Lisa was the first African American woman to hold a party affiliated elected office in Montgomery County, Maryland. Locally, she serves on the Bowie Economic Development Committee. Lisa was also a primary candidate for the 2016 U.S. House of Representative 4th congressional district and the 2010 Maryland House of Delegates, District 23A.
Lisa attended the Howard University and University of Maryland University College. Her affiliations include National Association for the Advancement of Colored People (NAACP); National Council of Negro Women; Continental Societies, Inc. (Prince Georges County Chapter); Charter member, Mount Rose (MD) Chapter of the Links, Incorporated; Washington Government Relations Group; Order of the Eastern Star-PHA; American Association of University Women; Association of Career and Technical Education; National Association of State Directors for Career and Technical Education.