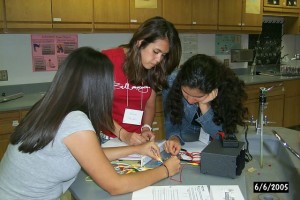 Join Us This Summer for Physics, Food, and Fun!
Dates and Location
July 8-19, 2013
Monday-Friday, 9 am-3 pm
University of Texas at Dallas, 800 West Campbell Rd., Richardson, TX 75080
Description
Physics camps build confidence and introduce students to key principles in Advanced Placement (AP) physics in a hands-on lab environment.  These 2-week camps are taught by physics teachers who have attended gender equity training. Camps are held in high school classrooms and can accommodate up to 60 girls. Students take field trips to a University and to a technology related company. To introduce students to STEM careers, time is allotted each day for a female speaker working in STEM field.
Topics covered include problem solving, experimental design, Ohm's law, series circuits and parallel circuits, velocity and acceleration, motion, trajectories, optics, and spatial skills.
Eligibility Requirements
You are eligible to participate if you are a female student attending either Plano ISD or Dallas area high schools and you
Will enter your junior year in fall 2013. Some exceptions will be made for students who will take physics during their sophomore year.
Have completed either Pre-AP Algebra II or Pre-AP Calculus by the end of this school year.
Have signed up for your first physics class next year.
Are able to attend all 10 days of the camp.
Cost
Nonrefundable deposit to reserve a spot: $50
Cost of 2-week camp is $500
Registration deadline extended to Tuesday, May 28, 2013
Balance due by May 28, 2013 ($450, if no financial aid is requested or granted)
Click here to register!
Click here to pay your deposit or your balance. Select Payment to "High Tech High Heels Physics Camp" and Payment for "Other."
Learn More
Video, photos, and feedback from past camps
Contact Information
Please contact Amy Gow at amyrgow@gmail.com with all questions.
Funders
Texas Instruments, Texas Instruments Foundation, NAPE, HTHH/Dallas Women's Foundation, and Posey Family Foundation