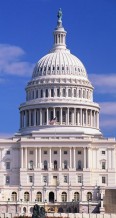 NAPE continuously tracks legislation that addresses—or has the potential to impact—access, equity, and diversity in classrooms and the workplace. Because of the various ways through which education and workforce equity is advanced, NAPE follows and works on a diverse array of legislation, ranging from education bills to immigration reform to welfare policy, and more. NAPE disseminates information about its public policy and advocacy work via several methods:
Sending special Policy Blasts and monthly Public Policy Updates to members via its members-only email list
Posting Public Policy Updates to the News from Washington webpage
Maintaining legislation-specific webpages. Each webpage provides a summary of the legislation; why it is relevant to NAPE's mission; its current status; recommendations for legislative action; and a list of resources so that readers can further familiarize themselves with the legislation.
In addition, NAPE has developed media and advocacy toolkits to assist members in their interactions with the media and policymakers and their staff.