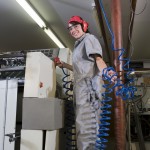 Careers Never Imagined (CNI) is a project of Pennsylvania College of Technology (PCT) located in Williamsport, Pennsylvania. Funded by a National Science Foundation Advanced Technology Education Program Improvement Project, PCT and NAPE have partnered to provide Program Improvement Process for Equity (PIPE) training with teams from four career technology centers that offer dual enrollment programs with PCT. The PIPE training is focused on increasing the participation of girls in nontraditional career and technology education programs that would prepare them for employment in the booming Marcellus shale natural gas industry in northern Pennsylvania. The participating schools include:
"We now have 7 girls in our introduction to automotive technology—we have never had more than 1 or 2. This project has really changed the culture of our school. We are all much more aware of how we can help students expand their career choices and are doing it!" Roxann Laird, Counselor, Jersey Shore Area High School
PCT developed Science and Math Applications in Real-World Technologies (SMART) Girls to counter an alarming academic and social trend: Girls tend to shy away from math and sciences as they enter adolescence and their important high school years. SMART Girls provides young females, in grades 6 – 10, the opportunity to experience math and science as a foundation for careers in technology. Hands-on experiences will range from crushing concrete (working with compression strength) to cyber challenges (creating Web pages).
On June 16–19, 2013, PCT will hold a residential program for girls entering grades 9-11 in fall 2013. This summer camp provides the opportunity to participate in workshops that include the following topics: (1) Gaming, Simulation, Web Design, and Multimedia, (2) Materials Processing and Manufacturing, (3) Construction and Design Technologies. "Step in the real world" sessions allows the chance to meet working professionals and tour real-world technology. Read the flyer