NAPE has developed a series of workshops for counselors that integrate current research-based counseling practices to ensure the academic success and college and career preparedness of underrepresented students in career and technical education (CTE) and science, technology, engineering, and mathematics (STEM) courses and programs of study. These workshops can be offered in a variety of lengths and formats—typically 1-3 hours long when conducted in person. Webinar formats are also available. NAPE is currently implementing this professional development in the STEM Equity Pipeline—Dallas/Fort Worth project.
In spring 2013, NAPE released a Counselor Toolkit, which is designed to effectively reach and encourage all students to consider a future career in STEM. It provides an overview of STEM careers, introduces positive language for talking with students, and connects the messaging with tools, activities, and resources. The Toolkit includes the following:
4 lesson plans and related documents
100 Kudos Cards to encourage girls in STEM
1 desktop Kudos Cards holder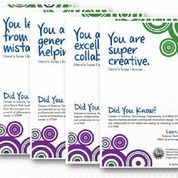 You can order high-quality print versions of the Counselor Toolkit!
Also in spring 2013, NAPE developed a STEM Careers: Just for Students webpage. NAPE has also identified the following as excellent resources for parents and families: