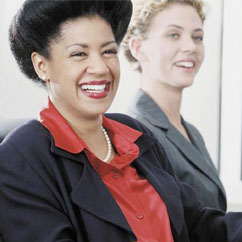 The NAPE Education Foundation, Inc. was established in 2002 as a 501(c)(3) nonprofit in response to requests for assistance with program improvement efforts by education and workforce agencies across the Nation.
The Foundation's work is driven by the following beliefs:
Access to diverse human brain power will help us solve global challenges.
Equity in the education system and the workplace improves US global competitiveness.
Improving women's economic position strengthens families and communities.
Understanding gender, ethnic, and cultural perspectives helps remove educational barriers.
Diversity and equity in the workplace benefit employers with a broader array of talents, skills and abilities foundational to innovation and profit.
Educators and employers with whom we collaborate have the best intentions for helping all students or employees to reach their full potential.
The Foundation provides equity and diversity solutions for educators to help every student fulfill his or her potential through access to the entire career spectrum. Specifically, the Foundation
conducts research in education and workforce development trends and policies
collects, develops, and disseminates best practices and resources
works with others to eliminate bias and stereotyping in education and employment
develops materials and programs to promote nontraditional careers
improves the ability of schools to meet the needs of an increasingly diverse student population
recognizes the efforts of employers to create supportive workplaces
builds the professional capacity of teachers to close achievement gaps
facilitates system changes in communities, schools, and businesses
increases the access to high-quality education and training.
The Foundation's primary customers are public education professionals and policymakers.  Public education in this case refers to middle school, high school, and community colleges; it does not include elementary school or 4-year universities.