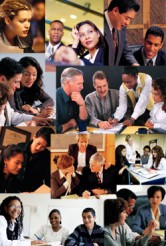 Each year, NAPE's Executive Committee incorporates the concepts of leadership, facilitation, and accountability into its Program of Work for the coming year.
Leadership
Engage in advocacy of key equity issues, particularly gender equity, in education.
Hold a national Professional Development Institute.
Develop public awareness materials for equity in education, with an emphasis on gender equity.
Develop partnerships with organizations with similar missions.
Facilitation
Provide technical assistance and resources to develop and administer policy, strategies, and programs to eliminate gender bias and to support statewide leadership on a variety of equity and educational issues including:
sex role stereotyping
sexual harassment
standards, assessment, and accountability
educational reform
transition to the workplace
services for members of special populations (including single parents, pregnant women, displaced homemakers, individuals with disabilities, individuals from economically disadvantaged families, and individuals preparing for nontraditional training and employment)
assistance for individuals with other barriers to educational achievement including individuals with limited English proficiency
tech-prep, apprenticeships, equity issues in rural and urban settings
counseling and guidance
career awareness and implementation of federal education and workforce development legislation.
Accountability
Provide technical assistance and resources for data collection and accountability requirements related to equity in federal education and workforce legislation; and program evaluation and implementation of equity standards and measures.
NAPE's 2013-2014 Program of Work
(Note: Proposed work of Finance, Nominating, and Bylaws Committees not listed)
Public Policy and Advocacy Committee
Issue monthly Public Policy Updates
Monitor Perkin's reauthorization process by attending hearings and meetings with committee staff
Continue to monitor OVAE Perkins Reauthorization Blueprint policy development
Open public policy sections of the website to the public
Develop white papers on public policy issues of importance to members
Conduct a webinar for PDI participants to prepare for Public Policy Day
Professional Development Committee
Develop post–Professional Development Institute (PDI) workshop
Develop workshop stream for new PDI attendees (Perkins 101)
Develop Wednesday night option at PDI for relaxed networking
Member Services and Marketing Committee
Provide leadership to the Executive Committee to assist with recruitment and retention of state and affiliate members
Build an ROI campaign to recruit and retain state and affiliate members
Facilitate opportunities to establish NAPE affiliate membership
Awards Committee
Formalize Emerita Award
Develop Group Award